Regular price
$90.00 USD
Sale price
$90.00 USD
Unit price
per
Value
Sold out
Aqua Cream
®
 is an antioxidant-rich rejuvenating moisturizer with 1% retinol that uses the ActivExtract arbutin to brighten and enhance skin clarity. Functional organic ingredients help deliver a smooth radiant glow. 
Share
View full details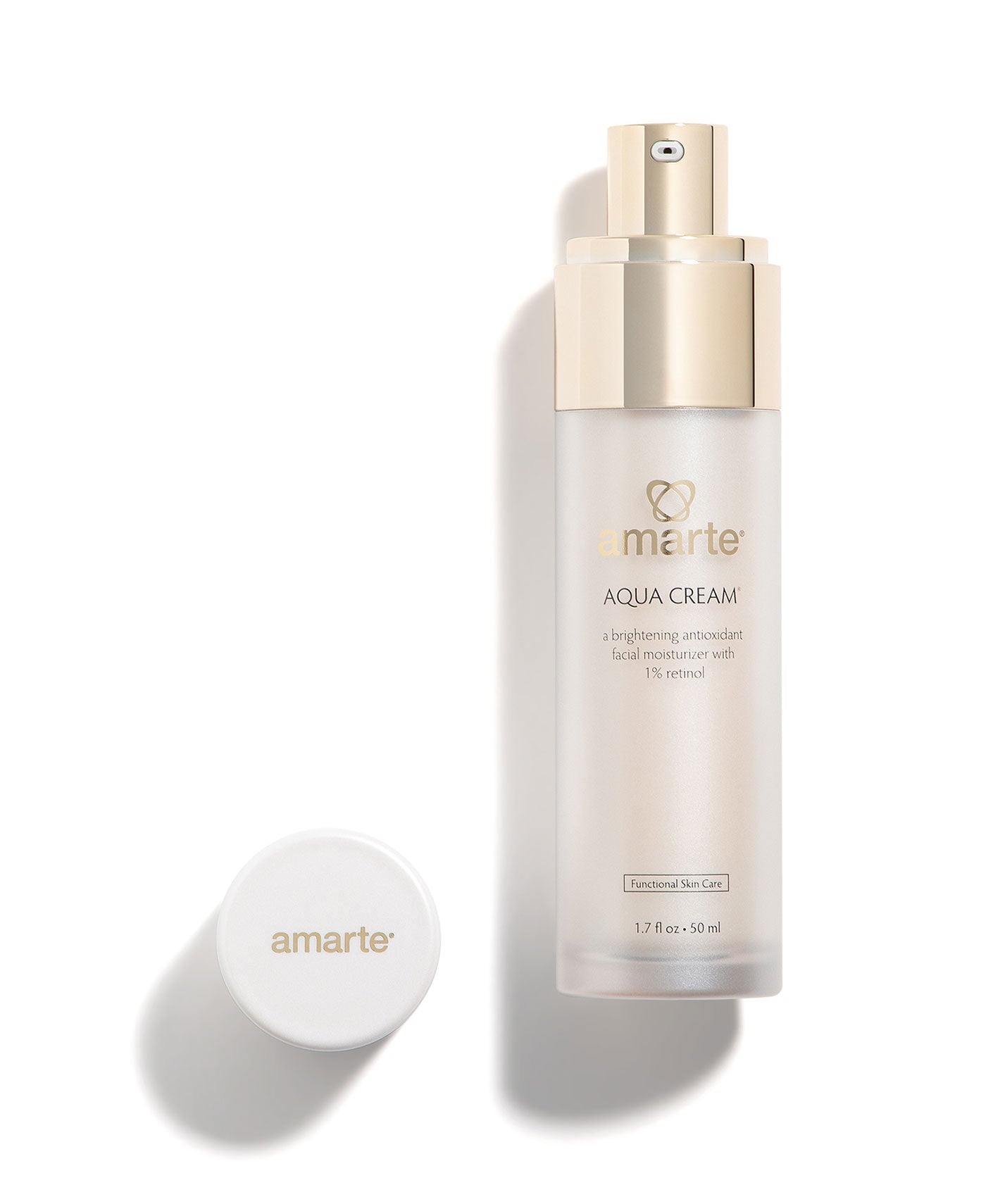 KEY INGREDIENTS
Arbutin
Arbutin is a skin conditioner with whitening, antioxidant, anti-inflammatory, and antibacterial properties. Derived from blueberries, bearberries, cranberries, and pears, arbutin inhibits melanin formation via tyrosinase inhibition resulting in cosmetically relevant whitening properties.
Brightens skin naturally.
Nanoencapsulated 1% Retinol
Retinol is a retinoid that enhances skin's radiance and is considered to be a skin revitalizer.  Retinol is one of the most effective cosmetic antiaging ingredients and is scientifically proven, via rigorous studies, to improve conditions associated with chronological aging, such as wrinkles and fine lines. It alters the behavior of aged cells so they act in a more youthful manner, and stimulates the production of new blood vessels in the skin while improving skin tone. Useful in the management of acne, rosacea, oily skin, and actinic keratosis, retinol also helps decrease skin damage associated with UV exposure.  Amarte products contain nano-encapsulated retinol for improved stability and absorption, efficacy, and tolerability.
Enhances radiance, helps diminish fine lines, revitalizes.
Allantoin
Allantoin is a botanical extract said to be healing, calming, and soothing. An excellent temporary anti-irritant, allantoin helps protect skin from external factors such as wind burn and may aid in healing damaged skin by stimulating new tissue growth. It is appropriate for sensitive, irritated, and acne-prone skin and is non-sensitizing. It may be synthesized or derived from the comfrey root.
Heals, calms, soothes.
HOW AND WHEN
HOW TO USE: Dispense a dime-sized amount of product to your fingertips and apply to face, neck, and décolleté, gently massage into skin until absorbed.
WHEN TO USE: Use after your hydrating mist and/or serum to seal in moisture and brighten in the morning, evening and as often as desired. When used in the morning, be sure to follow with an SPF.
*Moisturizing seals in moisture (this is why adding a hydrating step is so beneficial for your skin) to strengthen your skin's natural protective barrier. This will prevent water loss so skin remains soft and smooth.
FULL INGREDIENTS LIST
Click the following ingredients to learn the unique benefits of each.